Fitbit Versa 2 – Revamped smartwatch with Amazon Alexa leaked
The sales figures haven't been this great for Fitbit, leaving the US company placed third behind Apple and Samsung. To get back on track, Fitbit seems to work on a successor of the Fitbit Versa. At least that's what one can guess from the pictures that surfaced on the Internet, most likely showing a Fitbit Versa 2. Although there is not much known, I will try to gather the facts and rumors about the smartwatch, that is still to be announced.
For some time there have been rumors circulating the Internet about a Fitbit Versa 2. With publishing a render image, famous leaker Evan Blass boosted the discussion about a successor of Fitbit's smartwatch. As there is no official press release from Fitbit, all information given should be considered as rumors and wild guesswork. In my opinion we will see Fitbit release the Versa 2 at the beginning of September so that they will be able to present the new smartwatch on IFA 2019 in Berlin.
Groundbreaking New Features
Just once in my life I wanted to use a click baiting topic – sorry, I just couldn't resist. To be honest, from the leaked picture there are only a few hints so let's start with the most obvious one:
Amazon Alex on Fitbit Versa 2

If the picture is to be believed, the Versa 2 has support for Amazon's digital assistent Alexa. This means that there is a need for Wi-Fi and the need for at least a microphone, better a microphone and a speaker. From what you can see from the back of the Versa, there is a small hole adjacent to the wristband. Most likely this will be the microphone. Though a speaker would be nice, visual and haptic feedback can be given by screen and vibration motor.

Fitbit Versa 2 Special Edition

Taken the woven wristband on the right hand side into account, there will be a Versa 2 standard and special edition. I guess that, as with the Versa, Fitbit Pay will be available on the special edition only.

Sleek and slender design

Fitbit devices always had there unique design but with the time, the design has become more mainstream and Apple oriented. The design of the Versa 2 is no different. Compared to the Versa, its successor misses the last sharp edges that gave the Versa somehow a unique look. But it is not only the edges that are missing – the Fitbit logo underneath the LCD display has gone too, so are the two buttons on the watch's left. Not a big deal, though.

LCD vs. OLED

Some people consider that the Versa 2 is going to have an OLED display instead of the LCD display. I share this opinion as it emphazises Fitbit's claim concerning design and quality. Maybe the picture on the left hand side underlines this improvement, as the display seems to be all black – different from what you usually see with Fitbit.

Heart rate sensor

The heart rate sensor that is part of Fitbit's PurePulse technology looks exactly the same as the one found on the Versa, the Versa Lite and Ionic. I except Fitbit to introduce an ECG sensor, but its unlikely that is will be available on the Versa 2.
Release Dates and Prices
I am convinced that we will see a new Fitbit device by the end of August / beginning of September and I am pretty confident that I will be able get some hands-on experience on the IFA trade show in Berlin starting September 6th. Given this release date the Versa 2 will be available by September / October.
The first-gen, $199 Versa launched in March 2018, with the Versa Lite ($160) following this March. However, Fitbit doesn't follow a standard product release schedule, so stay tuned for a release date and price.
When released a year ago, the Versa went on sale for $199 (standard edition). Most probably the price for the Versa 2 won't be that different, with the Versa Lite being sold for $149, the Ionic for $249.
Fitbit Versa 2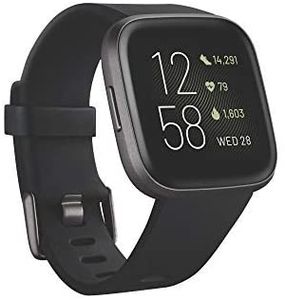 Fitbit
1.40 inch
AMOLED
300 x 300 pixels
303 PPI
39.0 x 39.0 x 11.0 mm
38 g (with strap)
Features
Features

Click for more information
Activity Tracking

Steps
Calories
Floors
Sleep
Stress
Inactivity alert
Dynamic target

Information

Time / Date
Notifications
Weather
Calendar
Find phone

Music

Remote control
Playback via BLE

Phone calls

Calls (direct)
k.A.
Calls (via Bluetooth)
k.A.
Sport programs / features

Click for more information
Running
▪ Race time prediction
▪ Advanced running metrics
▪ Pairing footpod
▪ Training load / Recovery
▪ Running Power
Cycling
▪ Pairing power meter
▪ Pairing cadence sensor
Swimming
▪ SWOLF
▪ Distance
▪ Strokes
▪ Style
▪ Pace
Hiking
Golf
Rowing
Crosstrainer
Indoor running
Workout
Sensors

Click for more information
| | |
| --- | --- |
| Acceleration / Gyroskop | |
| PPG / Heart rate | |
| Altimeter | |
| Compass | |
| Skin temperature | |
| Temperature | |
| ECG | |
Location services

Click for more information
| | |
| --- | --- |
| GPS | |
| GPS (Multiband) | |
| Galileo | |
| GLONASS | |
| BeiDou | |
| QZSS | |
| Live tracking | |
Connectivity

Click for more information
| | |
| --- | --- |
| Bluetooth LE | |
| ANT+ | |
| Wi-Fi | |
| NFC | |
| LTE | |
Other

Click for more information
| | |
| --- | --- |
| Interchangeable wristband | |
One more thing...
Can you imagine that this is a privately-run website? There's no office or editorial staff here, just me with a lot of passion and motivation to provide information, reviews, and news in a manner that large online magazines simply can't match. Even if English is not my first language, I hope you found this article useful.
If you'd like to support this website or show appreciation for my work, please leave a comment, share a link, or use the Amazon link to buy anything (it doesn't have to be related to the subject of this article). It would be much appreciated and will support this website.
We are sorry that this post was not useful for you!
Let us improve this post!
Tell us how we can improve this post?
---