Garmin Venu 3 / 3S – Everything you need to know
Garmin has unveiled the third generation of the Venu 3, which combines a sports watch and a smartwatch. Among many small innovations, the Sleep Coach, Nap Tracking, and the wheelchair mode stand out. Here, you'll find everything you need to know.
With the Venu series, Garmin has created a product family that, like no other, bridges the gap between smartwatches and sports watches. The newly introduced Venu 3 is probably the smartest sports watch the company has produced, and it's clear that Garmin doesn't measure a healthy lifestyle solely by sports.
With Nap Tracking, which records short daytime naps, and the Sleep Coach, sleep and recovery take center stage. The inclusion of the wheelchair mode opens up a new target audience for Garmin.
Garmin Venu 3 in Two Sizes
Visually, there hasn't been much change compared to its predecessor, so the Venu 3 and Venu 2 Plus look very similar. However, unlike the Venu 2 Plus, the Venu 3 is available in two sizes. The larger model, named Venu 3, features a 1.4″ display with a case diameter of 45 mm. The Venu 3S, on the other hand, is a bit smaller with a 1.2″ display and a 41 mm diameter, making it suitable for slimmer wrists.
Features - New and Notable
Upon closer inspection, the Venu 3 isn't a complete generational shift, as the predecessor isn't the Venu 2 but rather the Venu 2 Plus. That said, the list of new features and improvements is extensive:
Garmin Sleep Coach / Naps / HRV Tracking

One of the most significant innovations is likely the Sleep Coach. Essentially, it involves a more detailed analysis of various metrics, culminating in a recommendation on how much sleep would be beneficial for the body and mind.

However, this isn't based on the rule of thumb "you should sleep 8 hours a day" but takes into account factors such as:

Activity Tracking
Training / Training Load
Sleep Metrics / Naps
Stress / HRV (Heart Rate Variability)

This often results in a difference between the required and the average amount of sleep received. In such cases, the watch provides tips on how to bridge the gap.

This feature is complemented by the ability of the Venu 3 to record daytime naps. So far, Garmin has only evaluated proper sleep during nighttime phases.

Additionally, the Venu 3 also incorporates HRV tracking, a feature introduced by Garmin in various watches last year.

Morning Report and Daily Summary

Upon waking up, Venu 3 users are now greeted with the Morning Report. The report itself isn't new, but it's the first time it's available on a Venu series watch.

The report displays metrics collected by the Venu 3 during the night (e.g., sleep and heart rate variability) as well as upcoming appointments. The displayed values can be customized to personal preferences.

In addition to the Morning Report, the Venu 3 also introduces a new feature, the Daily Summary. This feature assesses the day, offering fewer data points but more text-based information about the two hours leading up to the set bedtime.

Wheelchair Mode

Counting steps and calculating distances covered by walking are options available to able-bodied individuals, but not to wheelchair users.

Starting with the Venu 3, users can activate the wheelchair mode, which now counts pushes instead of steps. Consequently, the motion recognition also changes.

When the wheelchair mode is activated, additional activities are available that make sense only for wheelchair users.

Honestly, this is a pretty cool feature that has been long overdue.

Multi-GNSS, but No Dual-Band Support

Improvements in position determination are somewhat surprising. Compared to its predecessor, the Venu 3 can now access and simultaneously utilize various satellite systems (GNSS).

However, unlike the current watches in the Forerunner, Instinct, and Fenix/Epix series, the Venu 3 does not support dual-band GPS.

This makes position determination still susceptible to environments where satellite signals are obstructed by reflections (e.g., buildings, mountains, canyons, forests), leading to errors in travel time calculations and less accurate location data.

Garmin seems to want to differentiate the Venu 3 from sports watches in this regard. Consequently, the Venu 3 also lacks SatIQ.

Recovery Time and Training Effect

On the athletic side as well, the Venu 3 sees gains as Garmin adds the display of training effect and recovery time. Both features were previously exclusive to Garmin's various sports watch series.

Jetlag Advisor

Also not new, but new within the Venu series, is the jetlag advisor. It provides recommendations for minimizing the effects of jetlag based on the time difference.

Elevate V5 (EKG-Capable)

The Venu 3 receives significant updates not only in terms of software, as Garmin incorporates its PPG sensor "Elevate" in the fifth generation. This means it's the same sensor found in the Fenix 7 Pro and Epix Pro.

To be precise, the term "PPG" may no longer fully apply because the sensors on the back now include not only LEDs and photodiodes for heart rate, heart rate variability, and blood oxygen saturation (SpO2) measurements, but also metallic contact surfaces for EKG measurement and likely skin temperature measurement.

And here's where speculation begins: Officially, the Venu 3 cannot perform EKG measurements or measure skin temperature. This is likely due to Garmin not yet receiving the necessary approvals required for such functionality, especially regarding EKG measurements.

Regarding the temperature aspect, many indicators (including leaked screenshots of the Venu 3) suggest that the Elevate V5 sensor is capable of measuring temperatures. However, it remains uncertain if and when this feature will be activated.

For those considering the Venu 3, it's advisable to focus primarily on its other features while there is still uncertainty regarding EKG and temperature measurement capabilities.

Photos in Notifications

One small but noteworthy change is visible in some of the press images. There, a notification (mirrored from the smartphone) can be seen that displays not only text but also an image (not an emoji).

There's a possibility that Garmin may display photos in notifications in the future (including on older models with AMOLED displays).
Battery Life
Garmin has improved the battery life compared to the Venu 2 and Venu 2 Plus. For a better overview, I've compiled Garmin's data for all three watches side by side:
| | Venu 3 | Venu 3S | Venu 2 Plus | Venu 2 |
| --- | --- | --- | --- | --- |
| Energy Saver Mode | 26 d | 20 d | 10 d | 12 d |
| Smartwatch Mode | 14 d | 10 d | 9 d | 11 d |
| GNSS (GPS only) | 26 h | 21 h | 24 h | 22 h |
| GNSS (all) | 20 h | 15 h | - | - |
Prices and Availability
Garmin is pricing the Venu 3 and Venu 3S at €499.99 each (MSRP). That's considerably more expensive than the Venu 2 and Venu 2S, which are currently being sold for approximately €350 on Garmin's website.
Garmin has not been differentiating the prices based on the size of the models for quite some time. This is somewhat inexplicable, especially given the smaller display and battery life.
The watches are already available for purchase online and through the manufacturer's website. For the Venu 3, you have the choice of models in Black and White with a silicone strap. There's also a black model with a leather strap available for €549.99.
The smaller Venu 3S with a silicone strap comes in colors like French Gray/Soft Gold, Pebble Gray/Slate Gray, Sage Gray/Silver, Dust Rose/Soft Gold, and Ivory/Soft Gold. For the Venu 3S, there is also a variant with a leather strap in the color French Gray/Soft Gold, also priced at €549.99.
Garmin Venu 3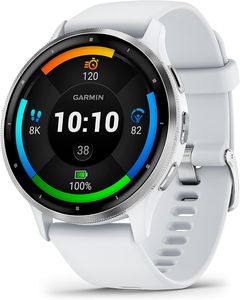 Garmin
1.40 inch
AMOLED
454 x 454 pixels
324 PPI
26
days (Energy Saver Mode)
45.0 x 45.0 x 12.0 mm
46 g (with strap)
Features
Features

Click for more information
Activity Tracking

Steps
Calories
Floors
Sleep
Stress
Inactivity alert
Dynamic target

Information

Time / Date
Notifications
Weather
Calendar
Find phone

Music

Remote control
Playback via BLE

Phone calls

Calls (direct)
Calls (via Bluetooth)
Sport programs / features

Click for more information
Running
▪ Race time prediction
▪ Advanced running metrics
▪ Pairing footpod
▪ Training load / Recovery
▪ Running Power
Cycling
▪ Pairing power meter
▪ Pairing cadence sensor
Swimming
▪ SWOLF
▪ Distance
▪ Strokes
▪ Style
▪ Pace
Hiking
Golf
Rowing
Crosstrainer
Indoor running
Workout
Sensors

Click for more information
| | |
| --- | --- |
| Acceleration / Gyroskop | |
| PPG / Heart rate | |
| Altimeter | |
| Compass | |
| Skin temperature | |
| Temperature | |
| ECG | |
Location services

Click for more information
| | |
| --- | --- |
| GPS | |
| GPS (Multiband) | |
| Galileo | |
| GLONASS | |
| BeiDou | |
| QZSS | |
| Live tracking | |
Connectivity

Click for more information
| | |
| --- | --- |
| Bluetooth LE | |
| ANT+ | |
| Wi-Fi | |
| NFC | |
| LTE | |
Other

Click for more information
| | |
| --- | --- |
| Interchangeable wristband | |
Garmin Venu 3
This website is reader-powered. If you buy something using the links above, I will earn a small commission that helps to keep this website ad-free and running.
* Affiliate Link
We are sorry that this post was not useful for you!
Let us improve this post!
Tell us how we can improve this post?
---