Garmin Venu – Fitness smartwatch with AMOLED display
Garmin Venu is the name of the company's first sports watch with an AMOLED display. While the Venu sports a new crisp and colorful display, the watch itself is based on the vivoactive 4, featuring all its functions. Here you will find all the information about Garmin's smart sports watch, or shall I say sportive smartwatch…
With the vivoactive 3, Garmin released a product that was never easy to classify into being a sports watch or a smartwatch. Due to the broad range of functions offered and numerous sports supported, the vivoactive series attracts a lot of potential buyers nonetheless.
Garmin Venu to the rescue
Despite its superior set of features, many people are longing for devices with bright, colorful and crisp displays, sporting high contrasts. This is something, a transflective MIP display only offers in direct sun light. In "normal" lighting it is nowhere near devices with an OLED display, e.g. an Apple Watch or a Samsung Galaxy Watch Active 2.
That's where the Garmin Venu comes into play. The Garmin Venu is more or less a sibling of the Garmin vivoactive 4 – both of them being released during the IFA trade fair in Berlin and both of them being the successor of the vivoactive 3. But compared to the transflective MIP display, the Venu features an AMOLED display.
Garmin Venu
Specs
Display type
1.2" AMOLED touchscreen
Resolution
390 x 390
Watch glass
Gorilla Glas 3
Dimensions
43 mm diameter
12 mm height
Waterproof
5 ATM
Straps
20 mm QuickRelease
Battery Life
Smartwatch - 5 days
GPS - 6 hours
Colorful OLED display
The Venu is Garmin's first product (except for some fitness trackers with tiny OLED displays) that features a 1.2-inch AMOLED display with a 390 x 390 pixels resolution. This is much more than the 260 x 260 pixels of a transflective MIP display of the same size and results in a pixel density of 325 PPI. Information are depicted as crisp and clear as on an Apple Watch 5 that has a 326 PPI resolution. The screen is protected by a 2.4 mm wide bezel and scratch-resistent Gorilla Glas 3 by Corning.
| | Venu | vivoactive 4 | vivoactive 3 | Apple Watch 5 |
| --- | --- | --- | --- | --- |
| Display size | 1.2" | 1.3" | 1.2" | 1.78" |
| Resolution | 390 x 390 | 260 x 260 | 240 x 240 | 448 x 368 |
| Pixel density (PPI) | 325 | 200 | 200 | 326 |
In addition to the resolution, the display's key strengths are its high contrast and bright colors. Compared to MIP displays, the Venu's AMOLED displays performs less well in direct sunlight, because the display's brightness isn't sufficient for depicting high contrasts. This accounts for all bright environments, whereas in normal or low light environments the Venu's display does perform best.
Always-on mode
All the AMOLED's benefits come at a price – the display has a higher battery drain than the MIP displays. The Venu's power consumption is as high as Garmin disabled the always-on mode by default. That doesn't mean that the Venu lacks an always-on mode. You can enable it in the settings, but the battery life decreases from 5 to 2-3 days.
When the always-on mode is disabled the display is turned on by lifting your wrist, by tapping or pressing a button. It's turned off again if there is no user interaction.
Live watchfaces
There are some watchfaces exclusive to the Venu that take advantage of the improved display first. All the other screens and menus are structured equally to those of the vivoactive 4.
While not being disadvantageous at all, it is the Venu's biggest disadvantage that Garmin does not make use of the display's full potential. For example, the Venu doesn't show the recorded track in an activity's summary, though by its high resolution it is predestined to do so. You'll find this information on the new Forerunner and Fenix models though and it's kind of cool.
It seems that the vivoactive 4 and Venu use the very same software foundation, thus not allowing the Venu's full potential to unfold – at least not by now.
Activity and Health Features
Even though the Venu has a touchscreen, there are two buttons on the right-hand side. The upper button is used for selecting options, starting, stopping and pausing activities, while the lower button can be thought of a back button.
Remember that the Venu and the vivoactive 4 offer the same functions. There is not a single feature that is exclusive to one or the other. So let's sort out, what the Venu has to offer:
Activity tracking

The Venu has all the basic acitivity tracking features, i.e. it counts your steps and based on this number is able to derive the calories you burned and the distance you covered. This is not a big deal as those features are basic ones. The build-in altimeter is more like an advanced activity tracking feature that records the number of floors you climed.

Sleep tracking

Sleep tracking has always been one of Garmin's most solid health metrics. It allows for getting an insight into your stages (deep, light, REM) of sleep. Garmin even tracks the time when you are awake and usally the metrics are spot-on.

PulseOx

With Garmin's improved Elevate sensor technology, you are able to record you pulse ox levels all day long. Though it still is a consumes a lot of energy, the situation has improved alot since the vivosmart 4. This device has been the first Garmin wearable to record your pulse ox, but only by night. Still then, it has drained the battery by up to a third.

Stress monitoring

The optical sensor on the watch's back is able to monitor how stressed you are. It does so by taking your heart rate variability (HRV) into account. This may rise your awareness to high levels of stress, that may affect your health in the long run.

Body battery

The body battery feature is related to the stress monitoring and the sleep tracking and gives you insight in how good you regained strength and reliefed stress at night. During the day it shows how stress drains your body resources, that you have build up by night.

Animated fitness workouts

Garmin has added animated fitness workouts to the Venu / vivoactive 4. You'll find 40+ of these for strength, cardio, yoga and pilates. Every workout comprises a set of single excercises. If you would like to create your own workout with your own set of excercises, you can do so.

Garmin Coach

Menstrual cycle
Smartwatch Features
Music / Offline playlists

The Venu comes with support for onboard music storage. Even though the total storage is 4 GB, some of it is used by the watch itself, so that about 3.5 GB are free to use. This allows for syncing with your local music files or downloading music from Spotify, Amazon Music, Deezer or IHeartRadio.

Garmin Pay / NFC

Garmin Pay allows you for paying things at stores just with your Garmin watch. There are two requirements:

A store that has a checkout that supports near field communication (NFC) payments.
A credit card that is supported by Garmin Pay.

You just have to add a credit card to your Garmin Pay wallet. When synced to your Venu, you can open Garmin Pay on your watch, select the credit card, enter your passcode and hold the watch to the terminal.

Notifications

The Venu supports smartphone notification, so that notification you usually get on your smartphone are mirrored to the Venu. This is feature is available to iOS and Android users, though Android users are in advantage: They can respond to some notification with pre-defined messages.
Release date and prices
The Garmin Venu has been announced on September 5th and is available online and at retailers. The watch is offered in four colors, but there is only one size available. Prices start at 349.99 USD which is 50 USD more compared to the vivoactive 4. As both share the very same functions, the surcharge goes to the AMOLED display. For some color options you have to pay 399.99 USD.
| Product | Price (USD) |
| --- | --- |
| Venu - Blue Granite / Silver | 349.99 |
| Venu - Black / Slate | 399.99 |
| Venu - Rose Gold / Light Sand | 399.99 |
| Venu - Gold / Black | 399.99 |
For 350+ USD you get an outstanding, but pricy fitness watch with several smartwatch features. It's not easy to judge if the Venu is worth the 50 USD extra. For now, Garmin has not been able to unleash the full potential of the Venu and its AMOLED display. I question that Garmin will provide a firmware update for the first generation Venu, that brings relevant changes towards the AMOLED display. If you consider that AMOLED displays are somehow new to Garmin (at least in this dimension), it is comprehendible that Garmin focussed on building a solid product first.
No matter if you take a Venu or a vivoactive 4, you get a feature-rich fitness watch. Just to be clear, the Venu is neither a sports watch for enthusiasts, nor is it the best smartwatch around. But if there is a category like "fitness smartwatch", this probably is the best product by now.
Some people tend to compare the Garmin Venu to the Fitbit Versa 2. I don't think this isn't a valid comparison as the there is a discrepancy regarding the number of features and the market segment the product is aiming at. While the Venu is more comparable to a sports watch, the Versa 2 is a fitness tracker with smartwatch ambitions, that is able to track your daily activities.
Garmin Venu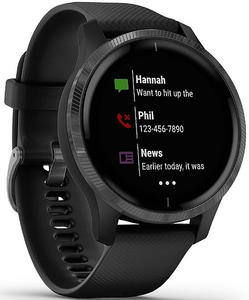 Garmin
1.20 inch
AMOLED
390 x 390 pixels
325 PPI
43.2 x 43.2 x 12.4 mm
46 g (with strap)
Features
Features

Click for more information
Activity Tracking

Steps
Calories
Floors
Sleep
Stress
Inactivity alert
Dynamic target

Information

Time / Date
Notifications
Weather
Calendar
Find phone

Music

Remote control
Playback via BLE

Phone calls

Calls (direct)
k.A.
Calls (via Bluetooth)
k.A.
Sport programs / features

Click for more information
Running
▪ Race time prediction
▪ Advanced running metrics
▪ Pairing footpod
▪ Training load / Recovery
▪ Running Power
Cycling
▪ Pairing power meter
▪ Pairing cadence sensor
Swimming
▪ SWOLF
▪ Distance
▪ Strokes
▪ Style
▪ Pace
Hiking
Golf
Rowing
Crosstrainer
Indoor running
Workout
Sensors

Click for more information
| | |
| --- | --- |
| Acceleration / Gyroskop | |
| PPG / Heart rate | |
| Altimeter | |
| Compass | |
| Skin temperature | |
| Temperature | |
| ECG | |
Location services

Click for more information
| | |
| --- | --- |
| GPS | |
| GPS (Multiband) | |
| Galileo | |
| GLONASS | |
| BeiDou | |
| QZSS | |
| Live tracking | |
Connectivity

Click for more information
| | |
| --- | --- |
| Bluetooth LE | |
| ANT+ | |
| Wi-Fi | |
| NFC | |
| LTE | |
Other

Click for more information
| | |
| --- | --- |
| Interchangeable wristband | |
One more thing...
Can you imagine that this is a privately-run website? There's no office or editorial staff here, just me with a lot of passion and motivation to provide information, reviews, and news in a manner that large online magazines simply can't match. Even if English is not my first language, I hope you found this article useful.
If you'd like to support this website or show appreciation for my work, please leave a comment, share a link, or use the Amazon link to buy anything (it doesn't have to be related to the subject of this article). It would be much appreciated and will support this website.
We are sorry that this post was not useful for you!
Let us improve this post!
Tell us how we can improve this post?
---